A new report has just been released analysing the worldwide usage patterns and the volumes administered by brand across aP-based hexavalent, pentavalent and school entry booster vaccines.
It examines multiple key indicators across infant primary series, toddler booster and pre-school booster vaccinations in countries that represent at least 95% of the global volume for each category.
Get an overview of the report below, and click here to download a full copy.
The role for pediatric combination vaccines.
Combination vaccines immunise infants against diphtheria (D), tetanus (T), pertussis (P), poliomyelitis (IPV), hepatitis B and diseases caused by Haemophilus influenza type b. They are recommended for primary vaccination and toddler booster administration in three or four doses.
Hexavalent vaccines target all six of these diseases, whilst pentavalent vaccines target all bar hepatitis B. Based on the pertussis antigen component, pediatric combination vaccines can be either DTaP (acellular pertussis) or DTwP (whole-cell pertussis).
Because immunity wanes over time and children are at greater risk of infection once they start school, a further booster is administered between the ages of 3 and 7. These school entry booster vaccines are either trivalent (DTaP, Tdap) or tetravalent (DTaP-IPV, Tdap-IPV).
More than 310 million doses were administered in 2020.
The study finds that global demand for pediatric combination vaccines in 2020 was 313.2 million doses, a 4.2% decrease over the year prior. It attributes the decline to healthcare measures taken in response to the COVID-19 pandemic.
The report's primary focus is on aP-based combination vaccines. These are most often administered in public markets (i.e. markets where vaccines are procured and financed by the government rather than being paid for by private individuals or through insurance schemes). Public markets are most often found in high and upper-middle income countries.
aP-based vaccines accounted for 23% of the global volume. More than 30 million doses of both hexavalent and pentavalent vaccines were administered.
Europe accounts for the major share of aP-based pediatric combination vaccines. It represents well over a third of global consumption for hexavalent and pentavalent vaccines, and nearly half of school entry booster vaccines.
Sanofi Pasteur's market share is above 60% in both hexavalent and pentavalent vaccines.
Amongst the commercially available brands of aP-based hexavalent vaccines, Sanofi Pasteur's Hexaxim® had a share by volume of 67% (approximately 22 million doses). It was followed by Infanrix Hexa® from GSK with 26%.
In the public markets analysed, Hexaxim® commanded an even higher share. It was the clear leader in both European and emergent markets.
In the top 33 markets, around 3.8 million doses of hexavalent vaccine were used for preterm infants. Fully liquid and ready to use, Hexaxim® was the only vaccine used for preterms in 16 countries, including Austria, Belgium, Croatia, Macedonia and Norway.
With 62% share (approximately 21 million doses), Pentaxim® (Sanofi Pasteur) was the market leader in pentavalent vaccines. Most of the remaining volume was split between Pentacel® (Sanofi Pasteur) and Pediarix® (GSK).
Nearly 10 million doses of tetravalent school entry booster vaccines were administered in 2020. Tetraxim® (Sanofi Pasteur) represented more than 47% of these, almost double that of second-placed Infanrix-IPV/Kinrix®.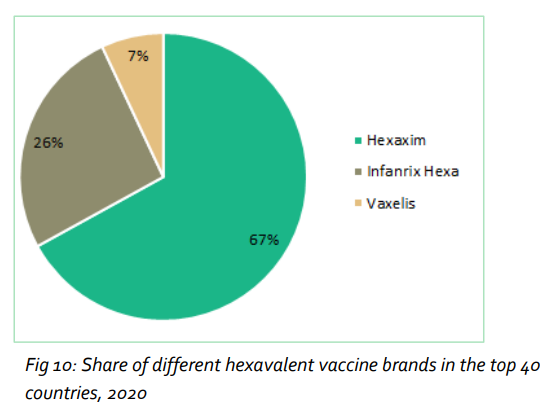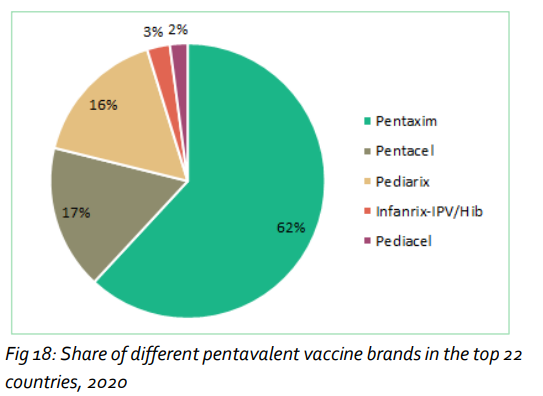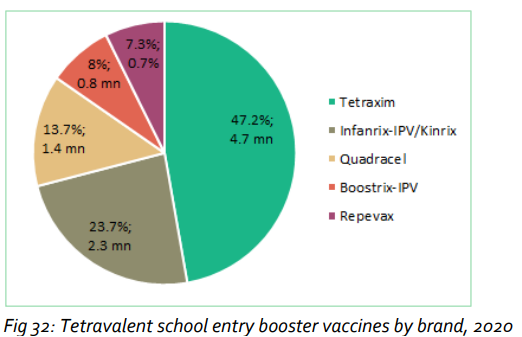 Based on close examination of cross-category data, the report concludes that Sanofi Pasteur is the global leader in the aP-based pediatric combination vaccines market.
Find out more.
A White Paper To Understand The Market Structure Of Pediatric Pertussis Combination Vaccines contains rich insights on worldwide usage patterns for hexavalent, pentavalent and school entry booster vaccines, together with the volumes administered by brand.
To download your copy, click here.
Refer to the links below to download previous Sanofi's whitepapers: