How do you convince your management of the value of CIE?
According to an industry survey conducted by CRAYON and SCIP between December 2020 and February 2021, 84% of businesses report their industry has become more competitive in recent years. Increased competition is driving companies to invest heavily in competitive intelligence (CI) to maintain and grow market share. With 61% of all companies recognizing the direct impact of CI on revenue growth, over two-thirds are increasing their CI headcount and budgets in 2021.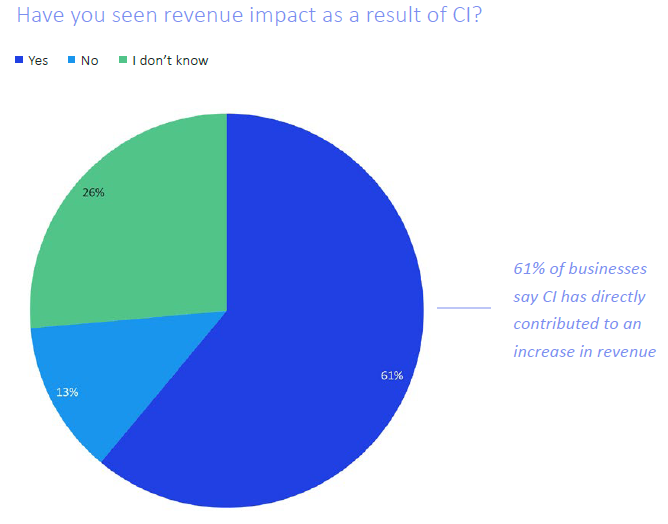 Moreover, stakeholder perception of CI is shifting, with 92% openly admitting CI's contribution to their overall success. While some CI initiatives are described as "ad hoc," approximately 70% of companies sharing CI daily or weekly acknowledge CI is driving revenue growth. Unsurprisingly, as programs ramp up and mature, almost half comprise dedicated strategy teams reporting directly to the CEO.
With clear evidence of CI's impact on revenue growth, how can you convince your management of the need to invest in CI? While web-based information and social media are an obvious source of CI, most of the research has focused on how to collect data rather than on how to use it to increase performance and growth.
Embedding competitive intelligence to increase performance and growth
The academic study, Competitive intelligence embeddedness: Drivers and performance, based on a survey of 124 strategic decision-makers and published in 2019, introduces the concept of competitive intelligence embeddedness (CIE) "the extent to which management and employees incorporate CI in daily routines, so that actionable knowledge is transferred throughout the organisation."
Demonstrating how CI impacts operations and performance, the authors—Amiram Markovich, Kalanit Efrat, Daphne R. Raban, and Anne L. Souchon—developed and challenged several hypotheses (see Figure 1) on how the "perceived quality of information and alliance with information providers" affects the adoption of CIE and subsequent organisational performance.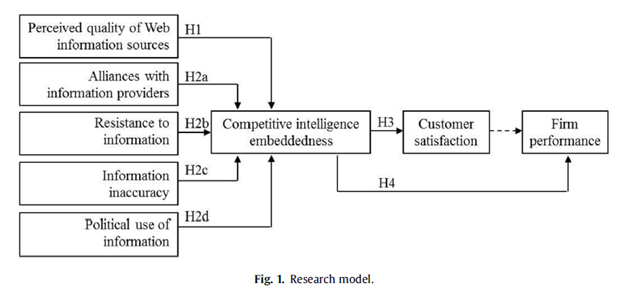 Validated using statistical software, the results of the hypotheses highlighted the relationship between the perceived quality of information, alliances with information providers, competitive intelligence embeddedness, and company performance based on customer satisfaction.
With customer satisfaction directly related to revenue growth, the report's findings established CIE as an important factor influencing consumer satisfaction, and consequently on the company's performance . With defined KPIs used to measure mature CI programs, companies can track the impact of CIE on customer satisfaction and performance, using the business outcomes to justify further investment.
The bottom line
Leveraging competitive intelligence to drive competitive advantage is key to survival. And with over 90% of businesses either maintaining or increasing their CI budget in 2021, competition will only increase in the coming years.
Investing wisely in competitive intelligence, CI-related tools, and information alliances will allow you to embed CI as a fundamental part of your organization's culture to increase revenue and grow market share.
About the writter, Amiram Markovich
Amiram Markovich is a Doctoral Candidate in the Department of Information & Knowledge Management at the University of Haifa, Israel, with expertise in CI & dynamic capabilities*. As a former SVP in a major Israeli Bank, Amiram founded and directed the CI unit of the Bank. Amiram lectures CI academic courses at Ruppin Academic Center (MBA programs) & Emek Jezreel Academic College; and academic courses in Banking Management at Netanya Academic College. Amiram is a Board member at the Israel Knowledge Management Forum. He served as Lt. General (ret.) in a specialized field intelligence unit.
* Main Publication:
Markovich, A., Efrat, K., Raban, D. R., & Souchon, A. L. (2019). Competitive intelligence embeddedness:

Drivers and performance consequences. European Management Journal, 37(6), 708-718.
Markovich A., Efrat K., Raban D.R., "The interplay among dynamic capabilities and their effect on firm

performance", paper has been presented at the EURAM 2020 (European Academy of Management) Conference, 4.12.2020.
Markovich A., Efrat K., Raban D.R. "Dynamic capabilities interrelation and distinct effects on performance

in low and high competitive intensity environments." Baltic Journal of management, May 2021