ReportLinker's AI-powered competitive monitoring strategy looks at every move your competitors make to their business and product developments so you can arm yourself with the very best information for chalking out the most efficient strategies.
By combining the "production data" and the "product launch" trackers, you'll understand the market and your competitors' innovation, productivity infrastructure technology, and research and development to address the following questions:
Evaluate any potential threats
Forecast a competitor's strategy
Discover untapped market for expansion
Avoid and reduce possible losses
Detect the latest product launches in the market while sophisticated analytics provide insights into geographies where the market segment of the product is expanding.
Trackers can similarly provide you with specific details into your competitor's product and services launch, release and announcement in the market, product approvals by a competent authority, and much more. In addition, they can give you access to the Quantity of product manufactured or the amount of service provided and to key indicators and market trends of a new product, such as its product pricing and sales and marketing strategies.
The Product Launch tracker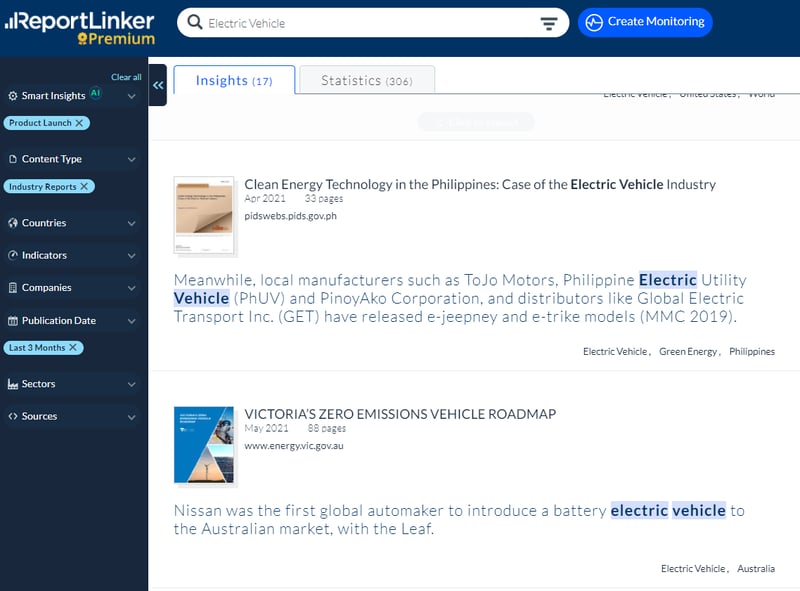 Based on the latest market trends, Figure 1 indicates the pollution-plagued Philippines is sparking an electric transport revolution in the clean energy sector with the backing of the government and private sector support. The Victorian Government is backing the market as it aims to have Zero Emissions Vehicles as half of all its light-vehicle sales by 2030, to deliver on its long-term vision to have a clean energy future.
The Production Data tracker:
ReportLinker's AI capabilities also enable you to see a rounded insight and complete view of the industry landscape, so you can better uncover opportunities and advantages.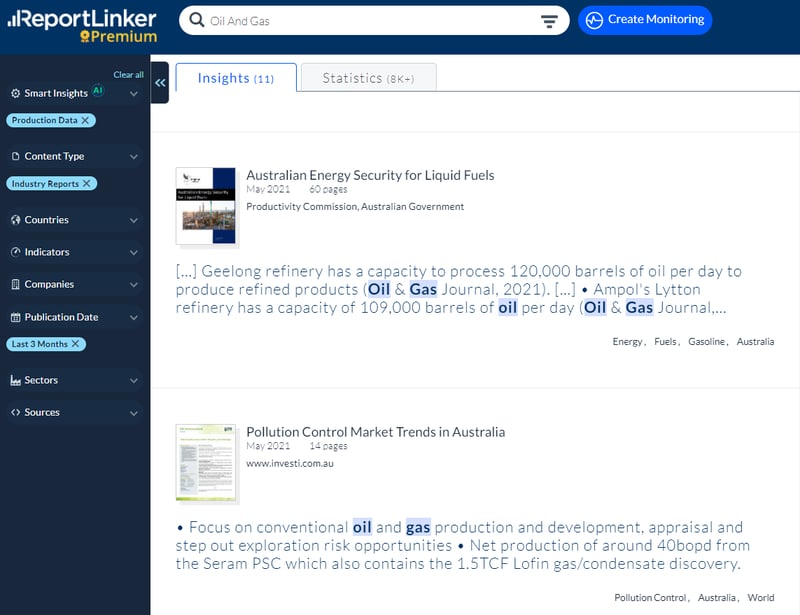 For example, Figure 2 gives an insight into the Australian Energy sector for liquid fuels, and if it is technically feasible for the country to achieve energy independence in relation to liquid fuels by looking into specifics, including the sources of supply and prices of liquid fuels, the country's energy security, it's International Energy Agency obligations and actual numbers into its refinery production.
With its vast pool of intelligence sources, high quality insights and AI-enabled search tools, ReportLinker is the quickest, most user-friendly way to understand sector trends and drivers. It's an invaluable aid to analysis and planning.
Discover the list of all ReportLinker's smart insights here.