Leverage ReportLinker's AI-driven capabilities to get exclusive market insights: research and monitor the market, evaluate new products, potential market openings, and understand your competitive environment.
What new markets are opening up for cannabis consumption and distribution?
What is the potential growth of the cannabis market in specific regions?
Where has cannabis been legalized for medicinal and recreational use?
A dynamic market
With countries worldwide relaxing regulations and launching economic and social experiments, legal cannabis—or marijuana consumption and distribution represents a significant opportunity for investors. According to industry analysts, the legitimate global cannabis market is expected to hit $31.4 billion in 2021, growing to $57 billion by 2027.
One group forecasts the European cannabis market alone to be valued at $59 billion—subject to full legalization.
Regardless of the specific analyst predictions, the global cannabis industry appears to be entering a period of rapid growth. With a handful of specialist investors driving early gains, the sector is opening up for generalist investors to take advantage of new opportunities.
Identifying regions where cannabis is a trending topic
One of the easiest ways to identify new markets is to find out where the topic is trending across reputable media sources. For this use case, ReportLinker's advanced analytics determines the number of times cannabis is mentioned and presents the findings in an easily consumable graph indicating substantial market opportunities in the USA and Canada for further evaluation.
It is possible to refine your query in a second by simply clicking on a value.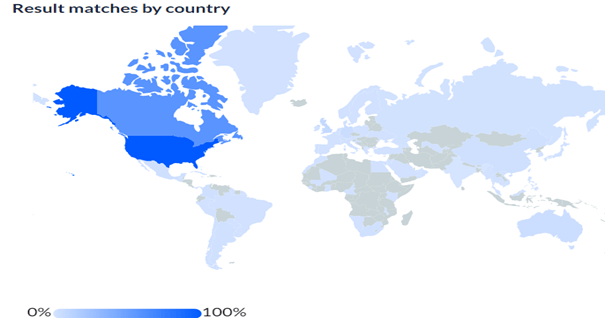 Figure 1. ReportLinker Analytics identifies the USA and Canada as developing markets where cannabis is a trending topic
For additional information on potential growth—either globally or within specific geographies—from an economic perspective, ReportLinker's news section allows you to filter news based on country, topic, and publication date.

Figure 2. Key economic indicators can be found in ReportLinker's News section according to publication date
With up-to-date forecasts based on reliable information, investors can quickly identify new markets for cannabis consumption, while cannabis firms can identify key metrics regarding potential growth.
Monitoring global legalization of the cannabis industry
With legal cannabis a fraction of the US$344 billion annual global market, significant returns are on offer for first-to-market growers and distributors as countries legalize cannabis. Providing direct access to the latest news, ReportLinker allows you to track the progress of cannabis legislation in relevant geographies, thereby impacting market opportunities in surrounding countries.

Figure 3. Global cannabis legalization
Figure 3 is an AI-enabled representation of where country reports are being published related to cannabis legalization and regulations. Detailed information can be obtained by drilling down into specific reports identifying market drivers and opportunities.
For example, on March 14, 2021, Bloomberg Quint published an article stating that "with a population approaching 130 million, Mexico is on the cusp of becoming the largest legal recreational market in the world. That could pressure the U.S. to follow suit, since it will be sandwiched between Mexico and Canada, countries that both allow cannabis use. Referring to opportunities in Europe, the same article highlighted "countries like Poland, Ukraine, South Africa—there are even rumors of Egypt—are also moving toward legalization," concluding that the continent "is a great hub to attack those markets from."
Tracking regional developments
For more detailed information on the progression of a specific country's cannabis legislation, ReportLinker enables you to drill down into relevant articles and text identified and highlighted using our advanced Natural Language Processing (NLP) capabilities.
For example, individuals interested in cannabis opportunities in the USA can search for "marijuana," and filter Content Type by Country analysis, and then choose the United States under Countries. One of the reports presented is the Quarterly Market Report Q4 2020, published by the Manpower Group. One of the included graphs outlines the levels of cannabis legislation passed by each of the 50 states.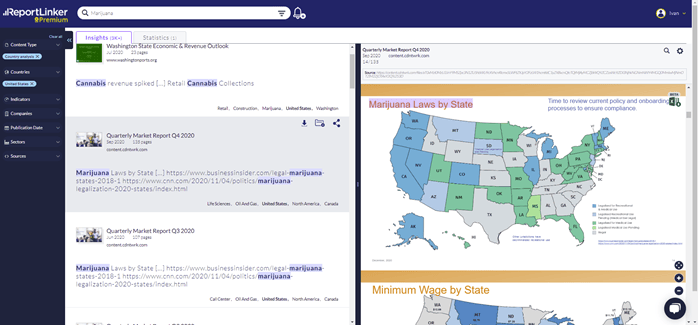 Figure 4. USA Marijuana laws by state
The map shown in Figure 4 indicates the different levels of legalization of cannabis for medicinal or recreational use, along with those where legislation is pending or still illegal.
The bottom line
As this article highlights, the cannabis market is opening up for investment as more and more countries legalize its growth, consumption, and distribution. While the USA's inconsistent laws complicate the legal situation and generate significant commercial inefficiencies, "liberal government regulations and legalization of cannabis for both medical and recreational use in the US and Canada are supporting the demand growth in North America." This situation represents a significant opportunity for investment.
Moreover, increasing decriminalization means that commercially regulated cannabis products—including beverages, edibles, and vapes—are rapidly finding their way into consumer markets, presenting more opportunities for businesses to grow their revenue.
As more countries legalize cannabis and the market expands, ReportLinker is the fastest, easiest way to track the sector using a vast pool of information sources and AI-based search tools for up-to-date, indepth insights.