Discover the latest insights published in 7 languages: Chinese, English, French, German, Italian, Portuguese, and Spanish.
Have you ever wanted to know what's happening in a specific industry or market but couldn't because the latest information is only published in the language of that region? Leveraging powerful machine translation techniques, ReportLinker now allows you to search for and read news and reports published in seven languages.
Translating and analysing over 80 million documents published in Chinese, English, French, German, Italian, Portuguese, Italian, Portuguese and Spanish.
ReportLinker allows you to discover the latest trends, threats, and opportunities from every corner of the world as they happen.
Chinese insights at your fingertips
As the world's second-largest economy, having the right information service to detect emerging trends, threats, and opportunities at the same time as your Chinese counterparts is crucial for your success. Providing instant access to Chinese articles, media, studies, and statistics, ReportLinker's industry-leading, multilingual AI-based market intelligence provides the tools you need to:
Monitor Chinese market data in real-time, including product launches, mergers, and acquisitions.
Stay on top of industry trends and market dynamics with ReportLinker's intelligent insights.
Identify the competitive landscape and evaluate market drivers, opportunities, and threats.
Track competitor's activities to create strategies for minimizing risk and driving growth.
Overcome the language barrier with automatically translated local content
As an example, let's find out what's happening with Baidu, one of the largest artificial intelligence and Internet companies in the world, often known as "China's Google" for its domination of the local search engine market. What partnerships is Baidu forging to grow its business? To find out, simply type "Baidu agreement" into the ReportLinker search bar and filter the results by clicking on "Partnerships". Figure 1 shows the results of the most recent Chinese media coverage.


Baidu's latest partnership announcement published in Chinese

ReportLinker's instant translation of the Chinese article


Other news translated from Chinese, Spanish and Portuguese :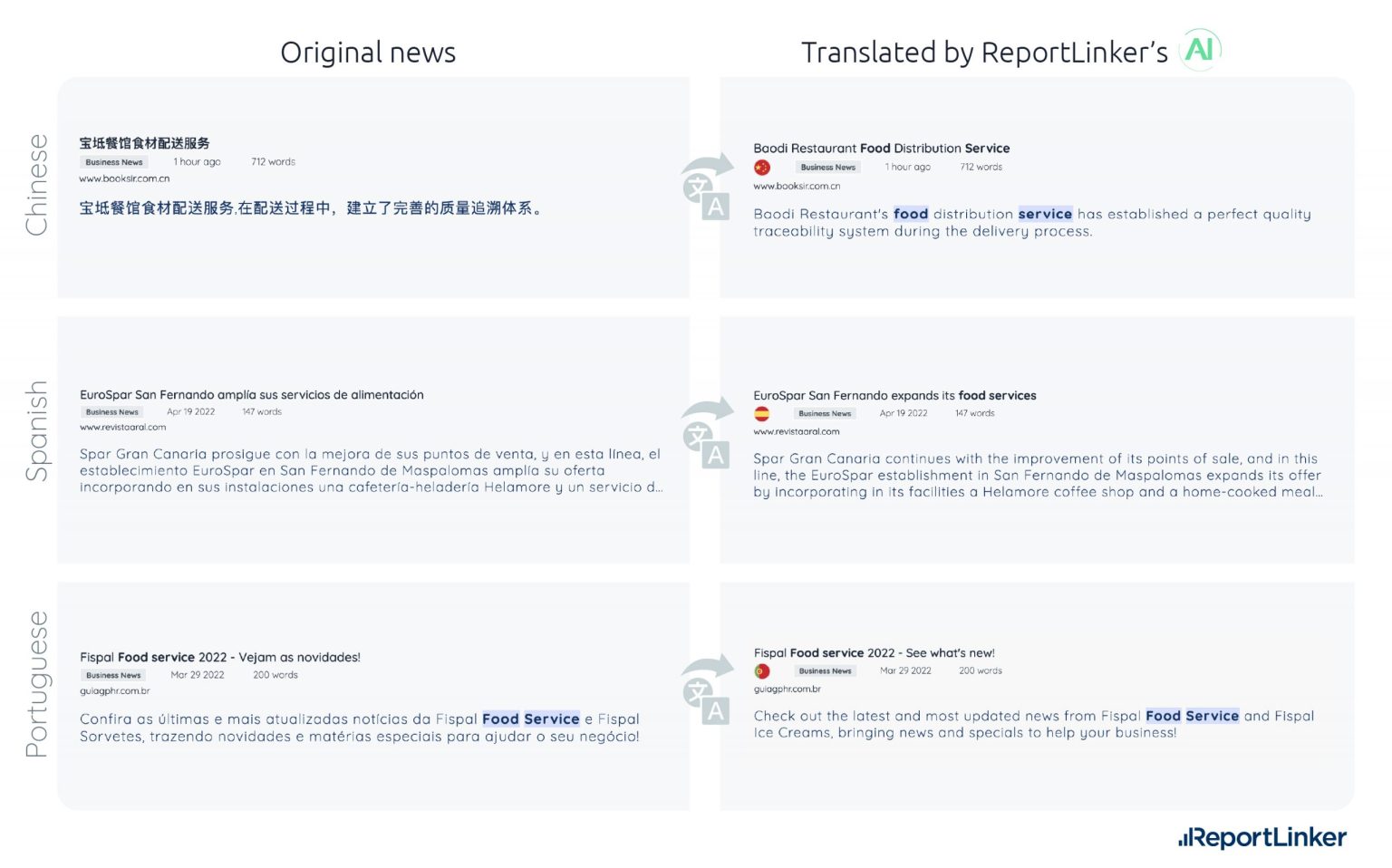 The bottom line
Combining vast amounts of information published in seven languages with intelligent, AI-based search and translation tools, ReportLinker delivers up-to-date, indepth global insights for better, more-informed decision making.